Electrode Ovens (Quivers)
Electrode Ovens, Bench Ovens And Flux Baking Ovens
» Electrodes with too much moisture may lead to cracking or porosity. Operational characteristics may be affected as well. This may cause excessive slag fluidity, a rough weld surface, deterioration of electrode arc performance, difficult slag removal, and cracking.
» Electrode Drying Ovens prove an indispensable asset to serve the purpose.
» All Electrode ovens by Welspring Universal are CE Approved. Ovens ranging from 5 kg – 300 kg holding capacity are available with auto cut-off facility.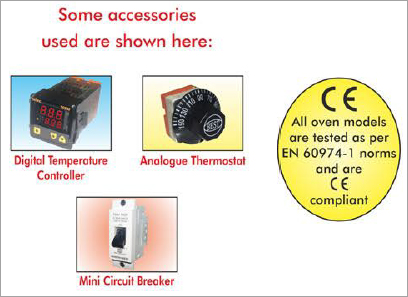 Welspring manufactures a wide range of electrode ovens, in varying capacities, for electrode moisture drying, and flux baking for SAW (submerged arc welding) applications.
Features available in our electrode ovens are :
* Analogue Thermoststs
* Digital Temperature Controllers
* Voltage offered are : 48V, 70V, 110V & 220V
* DUAL voltage ovens
* Stainless steel body ovens
* Bench Oven & Flux oven models are fitted with mini-circuit breakers for safety
* Each oven is tested and heated to rated temperature before being supplied
* Calibration Certificates are available upon request
* All ovens are tested to BS 638.5 and EN 60974-1 Norms