NM250 Gas Cutter / Gas Cutting Torch
GCE cutters are engineered from solid brass stamping with silver soldered joints and provide lightweight, well balanced, durable cutter giving reliability. With rear mounted valves and cutting lever and round handle.
cutter employs the nozzle mix principle, in which the combustible gas mixing is confined to the cutting nozzle. This results in a cutter which is highly resistant to backfire and flashback. A wide range of accessories are available for this cutter, such as attachments for heating, gouging, sheet metal nozzles, circle attachments, etc., to give maximum possible versatility. GCE torches and nozzles conform to EN ISO 5172.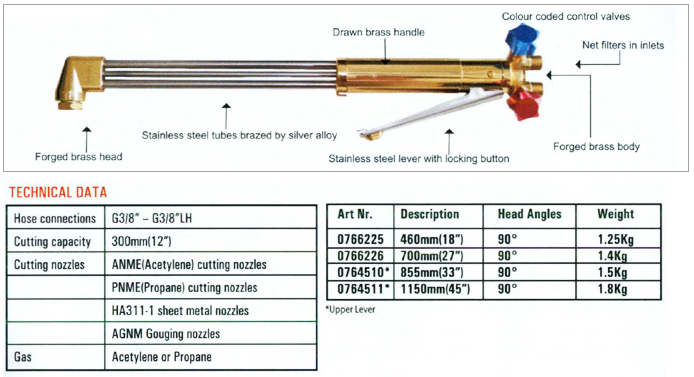 SUPERHEATING NOZZLES
For use type 3/4/5 blowpipe in conjunction with heavy duty mixer 0766253 and necks 0766254 or 0766255. Can also be used with Nm250 in conjunction with superheating adaptor 0766256.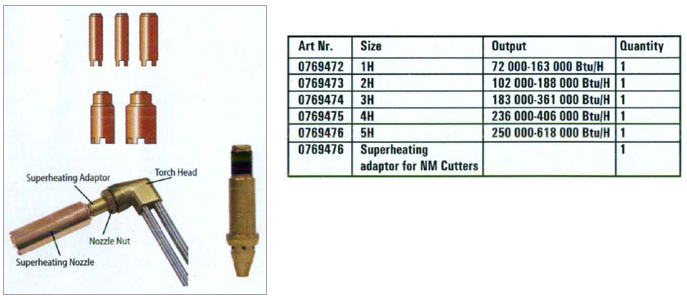 HOW TO FIT SUPERHEATING ADAPTOR
Place the "three cone end" of the sup-ehating adaptor into the torch head and fasten using the nozzle nut.
Once the adaptor is in place screw the superheating nozzle onto the adaptor.