Auto Darkening Welding Helmets
» Auto-darkening helmets come with continuously variable controls that adjust the shade from a light to dark and back.
» These helmets protect from harmful light emissions at all times and darken to almost any pre-selected shade in milliseconds, thanks to quick-changing LCD (Liquid Crystal Display) technology in the auto-darkening cartridges.
» With auto-darkening helmets, welders can see clearly while the helmet is already in a down position, so that setting up to weld in a weld metal joint can be done with the hood in position. These helmets permit more continuous work, reducing unnecessary stop-and-start time and the need for a welder to readjust a helmet and set up positioning.
» The delay and sensitivity of changing shade can be controlled as well.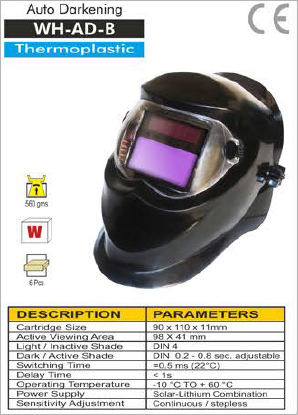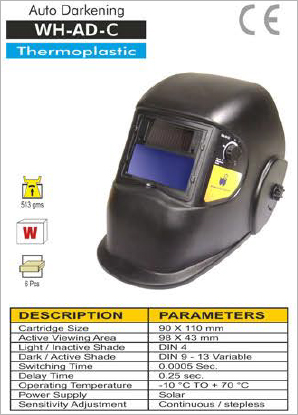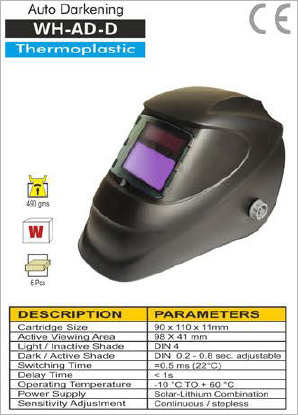 Product identification
Part Number : 19006000 - LCD HORUS 9-13
Reference Standards
89/686/EEC
EN-379 (LCD filter)
EN-175 (Helmet)
Description & Applications
The automatic LCD welding mask HORUS is a very reliable device for labour protection specially designed for MIG and MMA welding applications.
It can efficiently protect operator's eyes and face from injuries caused by the arc during welding operations.
The Auto-darkening filter protects the user against harmful UV/IR rays, both in the dark and light state.
Thanks to its excellent quality and its intuitive adjustments, it is ideal for all the infrequent welders that want to have a highly-affordable device.
General applications:
GMAW (MIG/MAG) - SMAW (MMA)