Welding blankets are fire retardant or fire resistant tarpaulins that are also known as "fire proof blankets". These blankets do not burn, they melt.
Heat resistant fabric and blankets of fibreglass or silicate fibres offer a high degree of protection against welding spatters and important showers of sparks.
Descriptions
A fire blanket/welding blanket is a safety device designed to extinguish small incipient (starting) fires. It consists of a sheet of fire retardant material asbestos,fiberglass or even ceramic fiber cloth which is placed over a fire in order to smother it.
Larger fire blankets, for use in laboratory and industrial situations, are often made of Asbestos,ceramic fiber or fiberglass(sometimes treated with a flame retardant fluid). These blankets are usually mounted in vertical quick-release cabinets so that they can be easily pulled out and wrapped round a person whose clothes are on fire :
Made from heat and fire resistance fabric like Fiber Glass / Ceramic / Asbestos.
» It protects human lives, precious capital goods and other valuable items from fire.
» Ideal for its use in the area of welding works.
» Fire curtains used to prevent radiant heat in hot region such as furnace, boiler etc.
» Flexible / Movable curtains made out of the above material are also available which is very ideal for it's used at the time of welding process.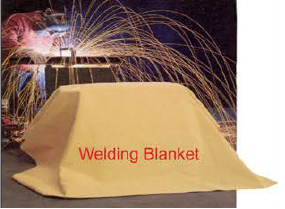 Welspring welding blanket are made from high temperature fiberglass woven fabric, in varying thickness. The fabrics can be uncoated or coated for varying applications. We offer uncoated fiberglass & Silica welding blankets as well as Neoprene coated, Graphite coated blankets. Other coatings are available on request.
Welspring Welding Blanket provide protection from spatter and slag generated by welding or metal-cutting applications. Standard sizes are 1m x2m or 2m x 2m. Other sizes can be made upon request.