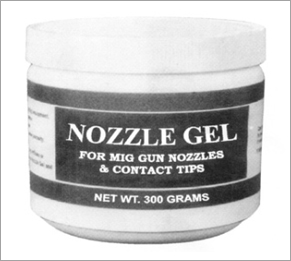 The most effective and economical Production Line Anti-Spatter Nozzle Protection available today.
* Non - Flammable
* Non - Toxic
* Silicon Free
* Odourless
* Convenient to use
* No wastage
* Does not cause Porosity
* One Dip gives more than 8 hour life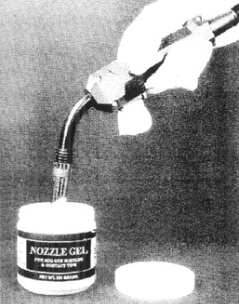 For MIG Nozzles, Resistance Welding Electrodes, Positioners, Jigs etc. Indefinitely increases nozzle and contact Tip life....insures easy weld spatter removal. Minimizes electrode fusion to contact tip under high voltage conditions. Excellent results with all hard wires and aluminium. Contains no Silicones, Sulphur or Nitrogen but increases Arc stability when present in Co2 and mixed gases. There are no harmful hydrocarbon solvents so it does not attract harmful elements to phosphating or paint. When used prevents clogging of threads and orifices.
Available ib 300gms Package.
ANTI SPATTER SPRAY for Welding Industries :

MSC Anti Spatter Spray is a superior welding aid and is ideal for all kind of welding jobs. The spray forms a film on nay metal surface. It prevents slug and metal spatter from adhering. Being non combustible, non migratory spatter cleaning problem. Spray on and wipe off the spatters. Eliminates Buils-upon. MIG and TIG tips.
DIRECTION FOR USE : Spray on the surface, uniformly around the weld line before welding. Spray on the inside of tips of the welding machine and wipe off the spatter once welding is over.
CAUTION : Contents under pressure. Do not expose to sun, heat or fire. Do not puncture or discard container into fire even when empty.
Available in 550ml. container.