Portable CNC Cutting and Welding Machine
Promotech's portable CNC shape cutting machine performs oxy-fuel or plasma cutting with single or double sided bevel on pipes, tanks, various steel structures. It can be used on flat or curved plates and can be fixed off-centre (hill side).
MCM positioning example: inside or on top of a tank, on a side (hill side) of tube or vessel etc.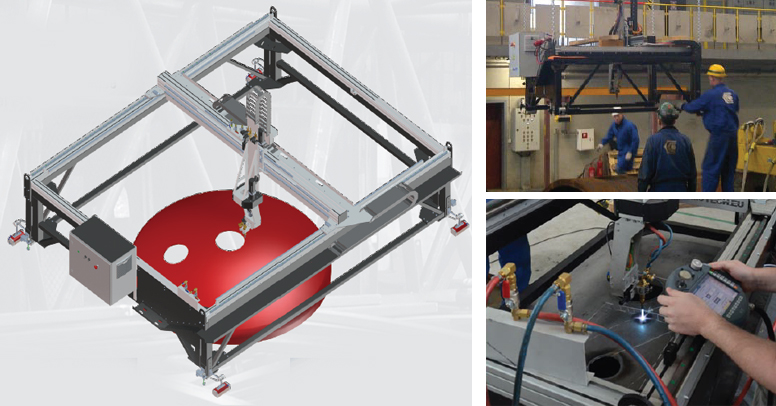 MCM main advantages :
» Full portability
» Cutting, beveling and welding processes are performed in automated cyclesOff-centre (hill side) hole cutting/beveling and welding
» Quick and simple positioning inside or on top of the work piece with built in gyroscope (auto leveling)
» Multi-surface scanning for cutting and welding
» Fast hole positioning with laser marking
» Torch path teaching
» Simple and user friendly interface allows easy input and configuration of cutting/beveling and welding
» High quality, efficient and repeatable performance
» Real time torch correction
» WI-FI monitoring, recording and uploading
» MCM remote control on a mobile device
PDF DOWNLOAD